Brown Concrete Floors Rank as Most Popular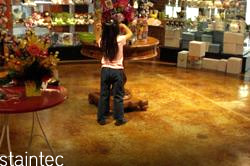 Of all the staining colors available for concrete floor surfaces, why would brown be the color of choice? The popularity ranking in the interior concrete floor gallery of ConcreteNetwork.com reveals that brown concrete floors were the most often viewed images. Their appeal? Take a look at the three reasons below and see how inviting and appealing brown concrete floors can be.
Organic, Earth-Tone Surfaces:
Concrete can produce a natural, organic surface that is amplified when colored with earth-tones and warm, calm colors. Doug Armitage of General Concrete Finishers in Moose Jaw, Saskatchewan colored approximately 1,200 square feet of concrete floor space and "the result was a stunning resemblance to marble and natural stone with mottled colors that added depth and warmth to the home." View the project.
Hides Dirt:
Brown floors are popular in homes and offices because they make dirt, lint, and other particles look less apparent. Because concrete is an easily maintainable surface, they're also simple to wipe clean. See: Concrete Floor Maintenance
Creates a Warm, Base Color for Rooms:
Brown concrete floors are a great neutral color for creating a warm base-tone and complementing with other accents such as more colorful furniture, artwork, etc. Many designers select brown because it visually adds depth to a floor. On the concrete floors of this project, a lighter-colored golden wheat chemical stain from Kemiko was used in the kitchen. In the adjacent great room, a richer look was achieved using a Scofield dark walnut stain. The two worked beautifully together while still providing room separation. In the study of the same home, the contractor, Lorena Herriot of Image-N-Concrete, decided on the same dark walnut color used in the great room but with a stronger mix to achieve a deeper darker color. The intent was to create a masculine look to blend with the walnut paneled walls.