Research Stained Concrete
Cost, maintenance and more
Common Questions

---

Buyer's Guide to Concrete Stain Products

---

Surface Preparation

---

Applying Acid Stains

---

Common Staining Issues

---
Six Unique Looks with Concrete Stains
One of the great attributes of concrete stains is that you can achieve many different looks simply by using different application techniques. Visit ConcreteNetwork.com to learn the secrets for producing each of these distinctive staining effects: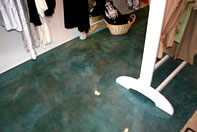 Photo: Progressive Concrete Coatings
1. Getting a mottled look with one stain color
This beach-themed retail store required a heavier-than-normal sprayed layer of stain which resulted in natural puddling, giving the concrete floor a richer color in certain areas.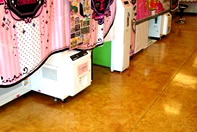 Photo: Staintec
2. Getting a faux-finished look
Using a solid base color of stain on this retail floor, the variegation was achieved by using three colors of enhancers with a random splatter technique.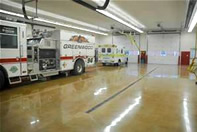 Photo: Artistic Surfaces, Inc.
3. Getting consistent, glossy color
The etching effect visible with most acid stain applications was avoided on this fire station floor by diluting the acid stain, spraying the solution, and immediately spreading it with a microfiber mop.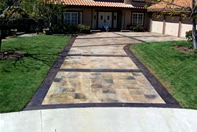 Photo: The Green Scene
4. Getting a layered look
Using multiple coats of three shades of tans, browns, and charcoal acid stains, this driveway was layered with one color, then covered with drops of another color in a continuous layering process.
Photo: Solid Rock Services
5. Getting a variegated look with stains and dyes
Construction paper was used in conjunction with two colors of acid stain to create veining in the surface.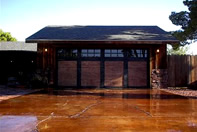 Photo: Pizzazz-Painting
6. Getting the natural look of leather
Highlighting the cracks of this driveway with a dark walnut-color stain and some black helped blend the cracks with various sprays of stain colors in yellow, and terra cotta.