Research Stained Concrete
Cost, maintenance and more
Common Questions

---

Buyer's Guide to Concrete Stain Products

---

Surface Preparation

---

Applying Acid Stains

---

Common Staining Issues

---
What Precautions Do I Need to Take When Applying Stain?
Before applying a concrete stain, always read the safety precautions provided by the manufacturer (often you can find these on the manufacturer's website). Acid-based chemical stains will require greater cautionary measures than acrylic stains because they often contain corrosive components that can cause eye and skin irritation and may produce strong odors. For projects in occupied spaces or where ventilation is poor, water-based acrylic stains are usually the best choice. Acrylic stains typically have a low VOC (volatile organic compound) content and are safe to apply indoors without concern for odors or toxic fumes, much like latex paint.
Here is a checklist of safety precautions to take when applying acid-based chemical stains:
Always wear eye protection and waterproof gloves.
Only work in areas that are well ventilated.
When staining concrete outdoors, protect any surfaces or landscaping adjacent to your staining project from drips or overspray.
If applying concrete stain using spray equipment, wear a NIOSH-approved respirator to prevent inhalation of airborne mist.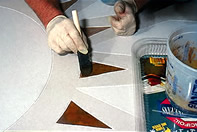 Photo: L.M. Scofield