Research Stained Concrete
Cost, maintenance and more
Common Questions

---

Buyer's Guide to Concrete Stain Products

---

Surface Preparation

---

Applying Acid Stains

---

Common Staining Issues

---
Preparing Concrete for Stain: Important Dos and Don'ts
Unlike paints and coatings for concrete, which are opaque and can disguise many evils, acid stains are transparent. Any unwanted residue remaining on the concrete surface is likely to show through the newly applied stain. "If you are negligent in the cleaning process, it can literally change the entire end effect. A substandard cleaning job will really show up once the final sealer or wax is applied," says Barbara Sargent of Kemiko Concrete Stains.
To achieve the best results with an acid stain, be sure to adhere to these dos and don'ts when preparing your concrete canvas:
DO remove any materials that may inhibit concrete stain penetration, such as grease, oil, coatings or curing membranes. Because acid stains need to penetrate into the concrete surface to work, it's especially important that the concrete surface is completely clean.
DO choose the right cleaning product for the job (see Questions to Ask When Choosing a Concrete Cleaner or Degreaser). Carpet glue, tile mastics, water and urine stains, chalk marks, caulk, grease stains, paint drips, and rust spots are just a few of the contaminants you may encounter once you remove an existing floor covering.
DON'T etch floors with muriatic acid solutions before staining, in efforts to improve stain penetration. Acid washing depletes the lime content in the concrete, which is what the minerals in the acid stain react with to develop color.
DO test all cleaning products first to verify their effectiveness.
DO use extreme caution when using chemical or petroleum-based strippers, which tend to be high in volatile organic compounds (VOCs) and can be highly flammable.
DON'T use chemical strippers if you're working in an enclosed, unventilated environment, since these products can be extremely hazardous to breathe. Be sure to read the Material Safety Data Sheet (MSDS) for the product to check for potential hazards and health effects.
DO remove all residue from the concrete surface after cleaning with degreasers, chemical strippers and other cleaning compounds. Thoroughly rinse the surface with water, and use an industrial wet vac to pick up the debris. Be sure to dispose of the waste properly if it's unsafe for the environment.
Get the appropriate application tools. Because most chemical stains contain hydrochloric acid, you'll also need to buy acid-resistant tools to apply them. (See Basic Tools for Applying Stains.)
When All Else Fails
Occasionally you may encounter deposits on the concrete that refuse to surrender to your best cleaning efforts. If scraping or chemical stripping are ineffective at removing glues, caulk, mastics or other heavy contaminants, you may need to resort to more aggressive removal methods, such as grinding.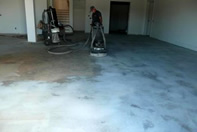 Clean floors thoroughly before applying stain.
Read more about cleaning and concrete surface preparation at ConcreteNetwork.com: