Research Stained Concrete
Cost, maintenance and more
Common Questions

---

Design Options

---

Benefits of Stained Concrete

---

Maintenance

---
Tips for Choosing the Right Stain Color
Selecting colors for concrete flooring
Length - 01:21
One of the best attributes of concrete stain is that the color is permanent and won't wear away. This makes it especially important to choose your colors wisely, selecting something that complements your current decorating scheme yet is versatile enough to accommodate future changes in your design plans.
To pick the best color and type of stain for your project, it will help to ask the following questions:
Do I want to achieve translucent, variegated tones or more opaque, uniform color effects?
Do I want bright, vibrant hues or more neutral earth tones?
Is my overall design scheme modern or rustic?
Will the color complement my walls or the exterior of my home (for outdoor concrete)?
Acid-based chemical stains come in a more limited color palette than water-based stains, but their earthy tones are well-suited for accenting the natural characteristics of concrete, resulting in an organic look with a rich patina. They produce warm, variegated coloring effects that blend particularly well with Old World or Tuscan-style design schemes.
Water-based acrylic stains come in a much broader spectrum of hues. Most manufacturers offer dozens of standard colors, and even metallic tints. Here, too, the different colors can be mixed, like water-based paints, to broaden your options.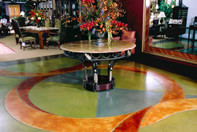 Photo: AFS Creative Finishes
Prepare a color sample first
Always apply stain to a small test area before covering the entire concrete surface. With some stain colors, what you see in liquid form may not be what you get once the stain has reacted with the concrete surface. Also be aware that color effects will generally be more intense on new concrete than on older or weathered concrete. Most stain manufacturers will provide color charts or even actual samples of stained concrete to help you visualize the options.