Research Stained Concrete
Cost, maintenance and more
Common Questions

---

Design Options

---

Benefits of Stained Concrete

---

Maintenance

---
Stained Concrete vs. Alternative Floor Coverings: How Does It Compare?
Decorative stained concrete offers a number of advantages that other popular flooring materials can't match. See this comparison chart from ConcreteNetwork.com showing how stained concrete measures up to carpet, ceramic tile, vinyl flooring, wood, and stone in the areas of:
Color availability
Performance
Ability to be customized
Energy efficiency
Resistance to moisture damage
Indoor air quality
Cost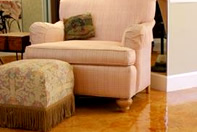 Photo: A Gorgeous Floor
Green Benefits
Concrete floors are better for the planet. The fresh concrete that goes into a floor slab is produced at a local ready-mix plant in the quantities needed for each project, so there is little waste. Using concrete also saves on the energy consumed to transport a factory-made product, such as tile or carpet, from the plant, to the distributor, and eventually to your home.