Research Stained Concrete
Cost, maintenance and more
Common Questions

---

Design Options

---

Benefits of Stained Concrete

---

Maintenance

---
Stained Concrete Cost
With staining, it's often possible to dress up plain gray concrete for less than the cost of covering it up with carpeting, tile, or most types of high-end flooring materials. Your final cost will vary depending on the complexity of the stain application, surface prep requirements, the size of the job, the type of sealer used, and whether you do the work yourself or hire a staining professional. But no matter what you spend, you'll be investing in a floor treatment that lasts. Properly sealed and maintained stained concrete will last for decades and rarely needs replacement.
Note: These estimated square foot prices are based on having the work done by a contractor, and may run higher or lower. For realistic price estimates, contact several contractors in your area.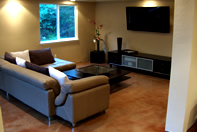 Photo: Colors on Concrete
Basic Cost Range ($2.50 to $5.50 per square foot)
What You'll Get:
An eye-catching, economical upgrade to plain, gray concrete.
Basic one-coat application of stain with sealer (which includes floor cleaning prior to staining).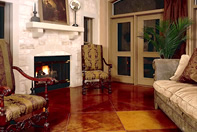 Photo: Kemiko Decorative Floor Finishes
Mid Cost Range ($5.50 to $7.50 per square foot)
What You'll Get:
More elaborate decorative effects.
Use of two or more coloring methods.
Scored or sawcut patterns incorporated.
At this level, the competition is high-quality carpeting and relatively low-priced tile.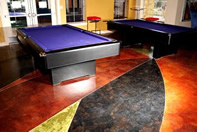 Photo: Pacific Decorative Concrete
Advanced Cost Range ($7.50 to $15 per square foot)
What You'll Get:
An artistic blend of techniques, patterns, and coloring mediums.
Advanced stain application using faux-finishing techniques, complex sawcut patterns, or stenciling.
At this price point, you are comparing against wood flooring ($8-$10 per square foot) and a range of ceramic and quarry tiles ($10-$12 per square foot).
Adding decorative sandblasting or engraving to the advanced stain application ($15+ per square foot). High-end stained floors are competitive with slate, terrazzo, and marble.
Source: Bob Harris' Guide to Stained Concrete Interior Floors
Money-Saving Tips
Generally, the project will cost less if you are staining new concrete that has not been sealed or previously covered with another flooring material.
Keep it simple by using just one stain color. You'll still be able to achieve multi-tonal effects because of the natural color variations inherent to concrete stain.
Do all or part of the work yourself, such as removing existing floor coverings. For advanced staining work, you're usually better off hiring a skilled contractor and paying extra for their expertise and artistic eye (see "Can I Apply Stain Myself or Should I Hire a Pro").
When comparing the cost of stained concrete with alternative flooring materials, such as carpet, tile, or hardwood, don't forget to factor in longevity and replacement costs.