Research Stained Concrete
Cost, maintenance and more
Common Questions

---

Design Options

---

Benefits of Stained Concrete

---

Maintenance

---
Using Stencils to Create Custom Designs
Stenciling concrete floors for personalization
Length - 02:08
One of the most popular methods for personalizing stained concrete is the use of adhesive stencils, similar to those used for stenciling walls and other flat surfaces. Using stains in conjunction with stencils allows you to embellish your floors with intricate patterns, decorative borders, medallions, custom graphics and logos - no artistic skills required. Although you can find stencils in hundreds of stock patterns (see these stencil patterns from Modello Designs), they can also be custom cut with a computer to duplicate your own patterns and graphic images.
Read more about stenciling concrete floors at ConcreteNetwork.com.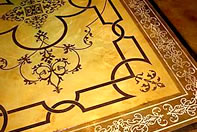 Photo: Modello Designs
Stenciling Tip: How to Prevent Bleeding
Because stains tend to be thin solutions, it can be a challenge to prevent them from bleeding under the stencil or to keep the application within defined pattern lines. An easy way around this problem is to use a special gel stain or thickening agent that improves application control.