Research Stained Concrete
Cost, maintenance and more
Common Questions

---

Design Options

---

Benefits of Stained Concrete

---

Maintenance

---
Starting with a Clean Canvas by Applying a Concrete Overlay
Using concrete stains with overlays
Length - 03:04
A cement-based overlay or microtoppping is ideal for masking minor imperfections in existing concrete floors that a decorative stain won't hide, such as discoloration or hairline cracks. Thicker overlays can also level out minor dips in a floor and go up to the bottom of baseboards if there is a gap after removal of previous floor coverings. If you want to maintain a seamless transition between rooms, thinner overlays can go down to a featheredge, so they won't create a noticeable height difference.
Overlays permit many of the same design options possible with freshly placed concrete:
Thicker overlays can be stamped and textured before you stain to mimic brick, slate, tile, natural stone, and other materials.
You can create a "faux tile" floor with no restrictions in tile size by scoring or sawcutting lines in the overlay.
Spray-applied overlays are ideal for use with paper or plastic stencils. They are available precolored or can be integrally colored during mixing. You can then apply stains, dyes, or tints for accent color.
Important note: An overlay is good option for covering minor flaws, but it shouldn't be placed over concrete with major cracks that are structural in nature or with severe spalling.
Read more about concrete overlays at ConcreteNetwork.com.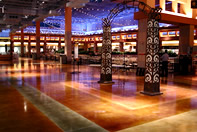 Photo: Concretizen
When Is the Best Time to Apply Stain to an Overlay?
Generally, you can apply a chemical stain to a thin, polymer-modified overlay 24 hours after placement. Once the 24-hour cure time is complete, you should apply the stain within 72 hours. If you wait longer than that, the overlay may become so hard that the stain can't penetrate and react properly.