Research Stained Concrete
Cost, maintenance and more
Common Questions

---

Design Options

---

Benefits of Stained Concrete

---

Maintenance

---
Concrete Stain Projects: Five Great Looks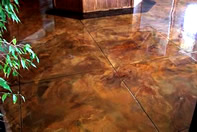 Photo: General Concrete Finishers
Marbelizing
Chemical stains do more than simply add color. Rather than produce a solid, opaque effect like paint or colored coatings, stains permeate the concrete to infuse it with rich, deep, translucent tones. Depending on the color and application techniques used, the results can mimic everything from polished marble to natural stone.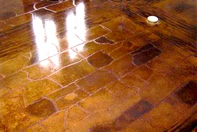 Photo: Custom Concrete Solutions
Old World Charm
What many people love most about stains are the "antiqued" or variegated tones they can produce. Rather than uniformity, stains give concrete floors an aged, Old World look that enhances concrete's natural characteristics.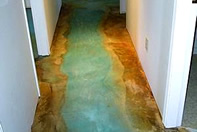 Photo: Fake-It
Faux Finishes
The same techniques and tools used to faux finish walls can also be used to apply stains to concrete floors. Experiment with "tools" such as rags, torn paper, crumpled plastic, and sea sponges to create unique effects.
Photo: Concrete-N-Counters
Multicolored Creations
Any pattern you can imagine is possible by using adhesive-backed decorative stencils. After stencil removal, you can stain or dye the previously covered areas with a contrasting color.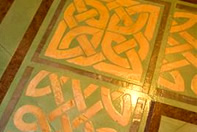 Photo: Artistic Walls
Decorative Stenciling
Applying multiple colors of stain can produce dramatic looks that take a basic stain job to the next level. Options include layering different colors of stain or creating graphic designs using decorative sawcuts.
Read about more stained concrete projects at ConcreteNetwork.com.